Can Delivery Drivers File Workers' Compensation Claims?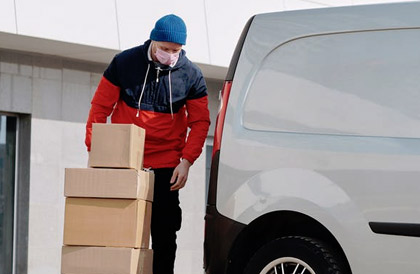 In the wake of the COVID-19 pandemic, more people making online purchases of clothes, electronics, and many more items, the need for delivery drivers has increased dramatically in Illinois. Delivery drivers engage in a wide range of tasks, and a worker can be injured at the workplace. Hauling loads of consumer goods from point A to point B often requires heavy lifting that can cause back and neck pain, shoulder injuries, and muscle strain. If you were hurt while driving on the job or making a delivery, or if you think you may have a personal injury claim in addition to your workers' compensation claim, it is best to consult an experienced Illinois worker's compensation attorney as soon as possible. Hiring a dedicated workers' comp attorney will give you a much better chance of obtaining the benefits you deserve. At Krol, Bongiorno & Given, Ltd, we handle claims for both union and non-union injured worker.
The on-the-job injuries associated with working as a delivery driver range widely, and can include:
– Repetitive motion disorders
– Back, neck, shoulder, or knee injuries
– Fractured, broken, or crushed bones
– Carpal tunnel syndrome
– Slip and fall
– Joint damage
– Forklift accidents
– Car accidents
– Dog bites
What to do if you were injured on the job:
– Obtain first aid or any other necessary medical treatment as soon as possible.
– Notify your employer about the injury and the way in which it occurred, as soon as possible.
– Call Krol, Bongiorno & Given. Once you have received necessary emergency medical treatment, your next step is to call an experienced workers' compensation attorney.
If you were hurt in an accident that wasn't your fault, such as a car accident, you may be able to file a personal injury claim. In order to win a personal injury case, you have to prove that someone else is responsible for your injury or was negligent in some way. Unlike workers compensation, personal injury damages are compensatory, which can include lost wages, loss of future earning capacity, medical expenses, and damages for pain and suffering resulting from the injury. Most importantly, if a third party caused your accident, you could earn "double recovery" because you would have both a workers' compensation claim and a third party personal injury claim.
Workers' compensation claims for delivery drivers can be challenging and complex. We understand that many families depend on the income of an injured worker, and we are proud of our record protecting the injured and disabled. We have handled well over 30,000 claims for injured workers throughout the state of Illinois. For immediate help with a work injury case, call (312) 726-5567 for a free consultation or contact us online.