Chicago, Illinois Carpal Tunnel Syndrome (CTS) Lawyers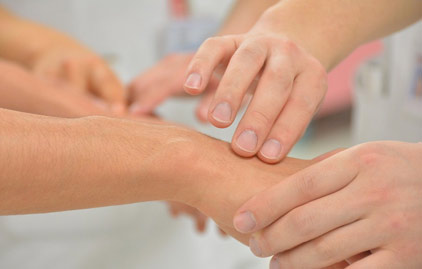 Carpal tunnel syndrome (CTS) is a common neurological disorder that occurs when the median nerve, which runs from your forearm into the palm of the hand, becomes pressed or squeezed at the wrist. You may feel numbness, weakness, pain in your hand and wrist, and your fingers may become swollen and useless.
When a job requires a worker to make the same movements over the course of weeks and years, it is common for workers to experience pain from time to time. Unfortunately, this periodic pain can also develop into a serious repetitive strain injury and often cause more days of missed work than other classes of injuries.
An injury like carpal tunnel syndrome can make it painful to grasp objects or perform work with the hands. The palms and fingers of people suffering from this condition will feel numb, tingly, and weak. Additionally, in advanced cases of carpal tunnel, you may have difficulty grasping everyday objects, a loss of sensation or numbness from your hands up your arm, or a burning sensation in your fingers and fingertips.
Workers have the best chance of obtaining compensation for carpal tunnel syndrome if their normal work duties place large amounts of stress on the wrist. Whether you are an assembly line employee, working in data entry, working as a receptionist or customer service, you have the right to file a workers' compensation claim for your carpal tunnel syndrome.
It is crucial to highlight that the claims process for carpal tunnel syndrome is complex, challenging, and genuinely necessitates the aid of a workers' compensation attorney. At Krol, Bongiorno & Given, we fight for fair and full payment for injured workers in Illinois. For immediate help with a work injury case, call (312) 726-5567 for a free consultation or contact us online.
Krol, Bongiorno & Given provides legal services to residents in the Chicago metropolitan area, including Cook County, DeKalb County, DuPage County, Grundy County, Kankakee County, Kane County, Kendall County, McHenry County, and Will County.