Winter Weather-Related Workplace Injuries in Chicago, Illinois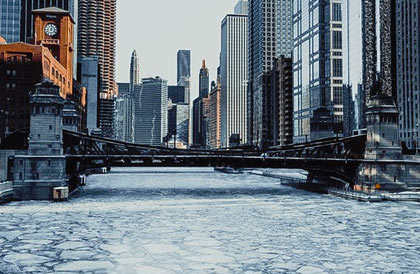 Winter conditions cause a large number of work-related injuries. For those working outdoors, especially, winter weather conditions can bring severe and chilling dangers, including slip and fall accidents, cold stress, and exposure-related injuries.
Among the most vulnerable to exposure are those who work outdoors, including trade occupations like construction and agriculture, as well as first responders, farm workers, and snow cleanup crews. Hypothermia and frostbite result from extreme-cold exposure, and both can have long-lasting effects.
Slips, trips and falls
Snow and ice commonly cause falls, so it's important to keep walkways, entrance ways and stairways clear of these hazards. According to the Occupational Safety and Health Administration (OSHA), slips, trips and falls account for 20 percent of all workplace injuries. In addition, slip and falls make up 15 percent of all accidental deaths, second only to motor vehicle accidents.
Whether you work outdoors or inside, preventing slip and fall accidents requires a commitment to ensuring safe working conditions, including regular clearing of snow and ice from walking surfaces. To avoid winter weather-related slip and falls in the workplace, employers should clear snow and ice from walking surfaces and put down ice melt as quickly as possible after a storm.
If you or someone you know was injured on the job, we are here to help. At Krol, Bongiorno & Given, we have handled well over 30,000 claims for injured workers throughout the state of Illinois. All claims are handled on a contingency basis, meaning there are $0 in up-front costs to our clients. We do not get paid until your claim is favorably resolved. We know this is a very difficult time in your life, and we are sensitive to the stresses you are experiencing as a result of your injury. For immediate help with a work injury case, call (312) 726-5567 for a free consultation or contact us online.