Workers' Compensation for Warehouse Workers in Illinois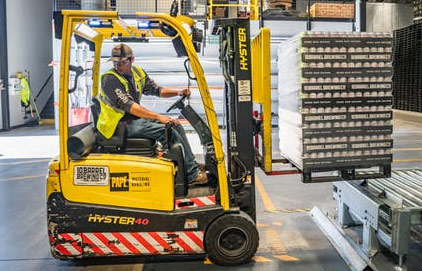 Over 145,000 laborers across the U.S. work in warehouses, as the Occupational Safety and Health Administration reports. Warehouse workers assist with all shipping, receiving, and inventory organization within the warehouse space.
This work includes tasks such as assembling items, inventory management, breaking bulk materials, packaging orders, loading trucks and arranging transportation.
Unfortunately, this labor-heavy job comes with a high risk of injuries for its workers. At Krol, Bongiorno & Given, LTD, our work injury lawyers understand just how devastating it is to get hurt at work and to have to worry about your medical bills and financial future.
Warehouse/Logistics workers are exposed to a unique set of workplace hazards, including:
– Overexertion injuries that are caused by frequent heavy lifting
– An increased risk of slip and fall injuries on warehouse floors
– Loading dock injuries
– Fires and explosions
– Harmful substances
– Forklift accidents
– Truck accidents
Many of the tragic accidents in warehouses in Illinois can be avoided through diligent safety procedures. If you are injured on the job, it is important to work with attorneys who have extensive experience with handling Warehouse/Logistics Workers Compensation claims. Our goal is to use our legal knowledge and experience to do everything possible to advocate for you and seek the maximum compensation for you and your family.
If you have been injured at work, we will fight to get you the benefits you deserve. Call us at (312) 726-5567 for a free consultation or contact us online.