Experienced Workers' Compensation Attorneys in Chicago, Illinois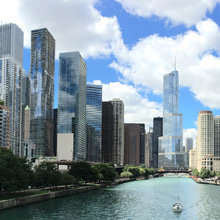 It doesn't matter what type of work you do or where you work, there is always a risk of injuring yourself on the job. In Chicago, Illinois, there are many people who get hurt at their workplace and this comes to us with no surprise. If you are an Illinois worker who has been injured, or if you have gotten sick from doing your job, you may be entitled to workers' compensation benefits or compensation through a third-party liability claim.
Work accidents can cause serious injuries and permanent damage. Some extremely serious work injuries can permanently hinder a person's ability to get around and continue their daily duties. Unable to perform their previous duties, an injured worker may have too change jobs and earn less money. Factors that affect one's quality of life such as place of work, relationships with friends and family, and social standing can all be taken away quickly by a work injury.
Our team is aware of the devastating effects a workplace injury can have not only on the victim, but also on his or her family. We will do all that is necessary to fight the insurance companies to ensure that you receive the maximum financial compensation you deserve. This includes compensation for medical bills, loss of wages, future loss of wages and other damages.
With over 60 years combined legal experience, we are a leader in the field of workers' compensation law and have earned the reputation as aggressive advocates for injured workers before the Illinois Workers' Compensation Commission.
If you have been injured at your place of work it is important to know your options in seeking legal action. Finding an experienced work accident attorney is crucial when trying to seek compensation so that you can make sure that your rights are fully protected. In order to ensure that you and your loved ones receive the best outcome, make sure you have the help of an experienced Illinois workplace injury lawyer you deserve. Call us at (312) 726-5567 for a free consultation or contact us online.