Workers' Compensation for Construction Site Accidents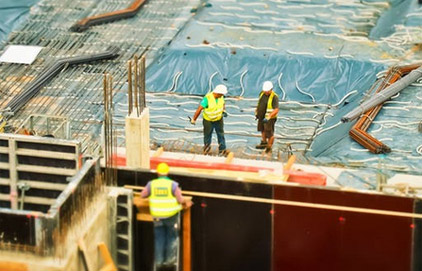 Construction is one of the most dangerous industries in the United States. Even though Construction accounts for only 4% of total workers, OSHA notes that over 20% of all work-related deaths occur in the construction industry. Construction injuries can occur because of unsafe working conditions, faulty equipment, lack of safety precautions, or human error.
Some of the accidents that routinely lead to construction site injuries include:
Falls
Construction workers frequently work on elevated surfaces. Moreover, there are often slippery surfaces that can cause slip and falls.
Electrical Injuries
Until construction is complete, there are often exposed wires, unfinished electrical systems, and downed power lines.
Getting caught in equipment or machinery
These accidents occur when a worker is caught between two or more objects.
Being struck by an object
This is another common cause of fatal work injuries: the worker is struck by something and killed because of it. A vehicle, machine, or falling object can hit them.
Developers and contractors are legally obligated to ensure that their construction sites are safe and that workers are trained with properly functioning safety equipment. However, even if workers and employers follow all the safety requirements and protocols, accidents can still happen.
If you have been injured in an accident on a construction work site, you deserve to be compensated for your losses. This includes the money to cover medical bills and lost wages during your recovery, and future lost wages if you have suffered a permanent disability.
For immediate help with a work injury case, call (312) 726-5567 for a free consultation or contact us online. Krol, Bongiorno & Given provides legal services to residents in the Chicago metropolitan area, including Cook County, DeKalb County, DuPage County, Grundy County, Kankakee County, Kane County, Kendall County, McHenry County, and Will County.