Airline Baggage Handler Injuries in Chicago, Illinois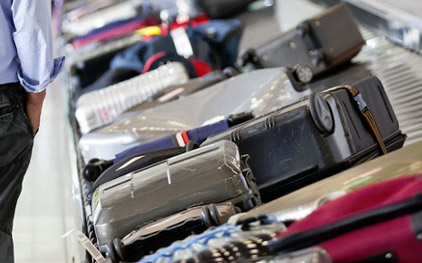 In the airline industry, baggage handlers are the people who load and unload baggage and other cargo to be transported by aircraft. Airline baggage handling is a very physical job. Despite the assistive devices used when moving luggage at the airports, the duties of baggage handlers are physically demanding and must be done over and over again throughout the work day.
According to a recent study from the Flight Safety Foundation, a staggering 85% of back injuries to baggage handlers occur during the loading and unloading of narrow body aircraft. The cramped design of some baggage compartments results in significant limitations on the range of motion a baggage handler can use to push, pull, and stack baggage. Because of this, airline baggage handlers may suffer injuries that cause chronic pain and limitations of movement that can prevent them from working while they are recovering.
Here are some of the most common causes of accidents and injuries include:
– Overexertion
– Back injuries
– Shoulder injuries
– Repetitive motion injuries
– Slip and fall accidents
– Heavy equipment accidents
– Weather-related injuries
– Hearing damage from planes
Loading and unloading cargo on a busy airport tarmac poses unique risks of injury and potentially even death when serious accidents occur. If you are a baggage handler, you could suffer a debilitating injury that requires you to take time off from work while you recover or results in you becoming permanently disabled.
Are you a baggage handler who needs to file a workers' compensation claim?
If you experience injury or pain because of your job as a baggage handler – eligibility for Illinois workers' compensation is very fact-specific. For this reason, you will need the help of an experienced workers' compensation attorney to help you navigate the intricacies of insurance negotiations and benefits denial so you can receive what you are truly eligible for as an injured worker in Illinois. At Krol, Bongiorno & Given, we have handled well over 30,000 claims for injured workers throughout the state of Illinois. For immediate help with a work injury case, call (312) 726-5567 for a free consultation or contact us online.