The Most Common Types of Workers' Comp Claims 2 – Cuts and Punctures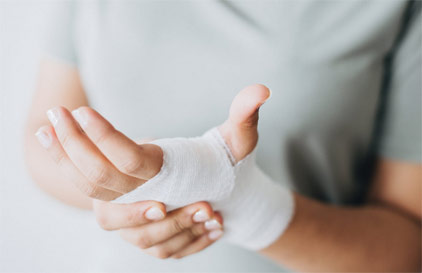 Cuts are common workplace injuries and they can be caused by slips, trip or fall, low overhangs, tools used on the job, exposed sharp surfaces, and many other causes.
Puncture wounds can penetrate the skin, as well as the muscles and tendons, to reach the bones and internal organs. Construction workers are among those at risk for this type of injury, typically caused by contact trigger nail guns.
Workers' comp is meant to provide benefits for people hurt on the job, regardless of fault. When you have been hurt on the job, you are entitled to receive thorough and high-quality medical treatment.
If you've suffered an open wound injury, you can take the following steps to mitigate the risk of infection:
– Stop the bleeding with continuous pressure to the injury with sterile gauze
– Irrigate deep wounds under large amounts of running water to remove debris
– Use antibiotic ointment on superficial wounds and cover with a sterile bandage
– have a medical professional determine appropriate closure of the injured area
If you have an accident in the workplace, it is important to follow these steps:
1. Obtain first aid or any other necessary medical treatment as soon as possible.
2. Notify your employer about the injury and the way in which it occurred, as soon as possible.
3. Call Krol, Bongiorno & Given.
If you suffered a work injury such as a cut or puncture wound, finding an experienced work accident attorney is crucial when trying to seek compensation. While we are one of the largest firms in Illinois dedicated solely to the representation of injured workers, we pride ourselves on the personal, one-on-one approach we deliver to each client. For immediate help with a work injury case, call (312) 726-5567 for a free consultation or contact us online.