Workers' Compensation for Warehouse Workers in Illinois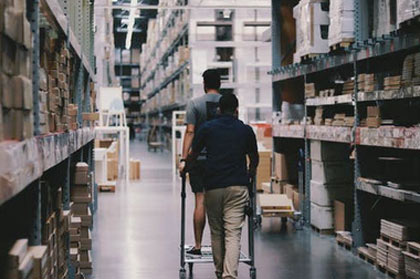 Warehouse workers assist with all labeling, inventory management, breaking bulk materials, assembly, packaging orders, loading trucks and shipments within the warehouse space. Warehouse work has its risks, even when the employee is performing simple, basic essential tasks. Employers must ensure high standards of safety in a work environment while adhering to regulations set by the Occupational Safety and Health Administration (OSHA). Without safety precautions, warehouses can be dangerous places to work.
According to the Occupational Safety and Health Administration (OSHA), warehouse accidents are caused as a result of one of the followings:
– Overexertion/Repetitive stress injuries
– Conveyor belt accidents
– Electrocution accidents
– Slip and fall accidents
– Loading dock injuries
– Fires and explosions
– Respiratory injuries
– Forklift accidents
– Truck accidents
All of these different injuries can happen in any warehouse and to any worker. Worker's comp does not prevent injuries, but it can help you recover. If you suffered an injury in a warehouse, it is important to work with attorneys who have extensive experience with handling warehouse workers compensation claims. Our goal is to use our legal knowledge and experience to do everything possible to advocate for you and seek the maximum compensation for you and your family.
At Krol, Bongiorno & Given, we have handled well over 30,000 claims for injured workers throughout the state of Illinois. All claims are handled on a contingency basis, meaning there are $0 in up-front costs to our clients. We do not get paid until your claim is favorably resolved. We know this is a very difficult time in your life, and we are sensitive to the stresses you are experiencing as a result of your injury. For immediate help with a work injury case, call (312) 726-5567 for a free consultation or contact us online.